KEP Technologies Capacities for Innovation
Relying on its Innovation Center based in Geneva, and numerous partners including the largest Research Centers and Universities, KEP Technologies is constantly developing new solutions. Our goal is always optimal performance giving us an ever stronger orientation towards Artificial Intelligence, Industry 4.0 and new materials.

The Objectives of the KEP Technologies Innovation Center
KEP Technologies Group has a multi-disciplinary innovation center in Geneva, Switzerland, an area recognized for the extent and quality of research conducted.
Its objectives:
Developing innovative solutions and breakthrough technologies
Expanding and renewing the Group's product ranges
Create tailor-made solutions for the needs of the Group and its customers.
Composed of a multidisciplinary and multicultural team, the Innovation Centre has established partnerships with the largest scientific and technological research centres.
The Group also holds around ten patents.
Opposite : Clean room of the CMI (Center of MicroNanotechnology) – Courtesy of EPFL-CMI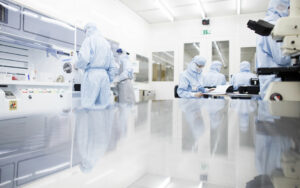 ---
Our Skills and Expertise
Our teams have acquired multi-disciplinary skills around multiple technological expertise:
Measurement & instrumentation

Measurement & instrumentation

Artifical Intelligence & Software development

Artifical Intelligence & Software development

Hard & soft Electronics

Hard & soft Electronics

Mechanics

Mechanics

Calculation & Numerical Simulation

Calculation & Numerical Simulation

Industrial IT

Industrial IT

Robotics & automation

Robotics & automation

Thermal science

Thermal science

Materials

Materials
---
Innovation in instrumentation, digital simulation, mechanics and automation
–
Improving the characterization of conditioned nuclear waste
Within the framework of the European project CHANCE, KEP Technologies has used the skills of its innovation teams to create a new type of solution for the characterization of nuclear waste. This characterization aims to identify the most suitable storage mode for a given waste container. This project draws on many different areas of iinnovation:
Instrumentation for the choice of sensors, their number and tmeasurement mode (without reference).
Numerical simulation for the optimization of thermal and particle flows, particularly with regard to their energy deposition in the calorimeter.
Mechanics and automation for the opening of the instrument (weight 12 tons, width 4.5m, height 2.4m) during container loading and unloading operations.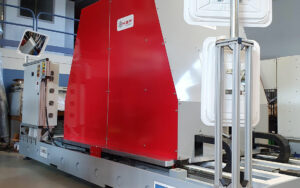 Artificial Intelligence
–
Integration of artificial intelligence in our solutions
The software we develop, whether standard or custom-made, collects a large amount of data, analyzes it to provide results, automates measurements and controls, and generates reliable and sophisticated reports. The solutions we design and install use certain concepts from Artificial Intelligence and Industry 4.0, thus helping to streamline production processes. They can integrate image analysis control for object recognition, mathematical models to simplify the development of reliable supervision protocols, alert systems when a part is out of specification, and initiate automatic corrective actions for the manufacture of subsequent parts.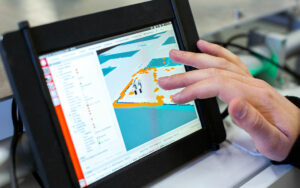 Thermal simulation, software, mechanics
–
Quantifying Tritium in Metal Containers
As a result of contracted collaboration with the CEA, a solution for measuring tritium quantities was developed. This tritium is present in very large drums (up to 380 litres).
Our teams conceived and developed breakthrough technologies to achieve this result, in particular :
 An insulation system without coolant circulation,via thermal simulation
 Unique predictive calculation software where the larger the samples, the longer the measurement. Thus, thanks to numerical extrapolation, the solution developed can predict the final result from the first hours of measurement.
Implementation of original mechanical handling systems for the large volume of containers required.
The solution developed led to the filing of a joint KEP Technologies-CEA patent (EP2946184A1).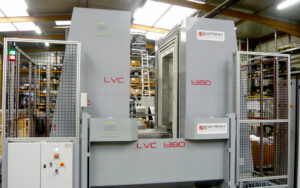 Image processing
–
Image processing, vision and X-Rays
KEP Technologies has developed extensive expertise in image processing, vision and X-Ray.
We develop and integrate devices and image processing and analysis algorithms into the solutions we offer our clients. We can thus meet multiple needs such as dimensional measurement, aspect control, assembly verification across a wide variety of fields such as aeronautics, military, nuclear and industry.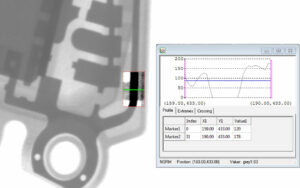 3D Printing
–
Structural design in 3D printing
The Group's innovation center has developed expertise in the design of flexible structures printed in 3D. This simplifies the manufacturing and assembly process of complex mechanisms.
For example, the animation opposite shows the gripper of an automatic sample changer. The entire mechanism is made in a single deformable part that can be used not only for gripping but also for detecting the presence of a crucible.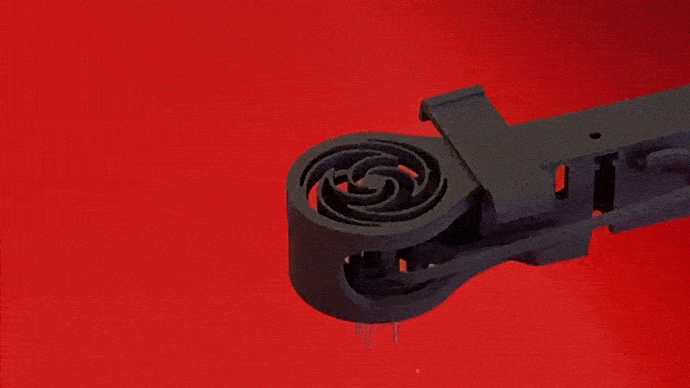 Thermal Properties
–
Modeling and analysis of thermal phenomena
The innovation center has solid expertise in the field of modeling and analysis of thermal phenomena.
In order to meet the specific needs of our customers, we use several complementary approaches in solving challenges related to thermal engineering and fluid mechanics (analytical methods, numerical simulation, prototyping). Numerical calculations and multi-physical simulations (COMSOL) complete the theoretical analyses and enable us to design the systems best suited to the desired performance. In addition to these simulations, prototypes are produced, tested and proven in our laboratories.
Opposite: design of the liquid cooling system of an enclosure subjected to high temperature constraints.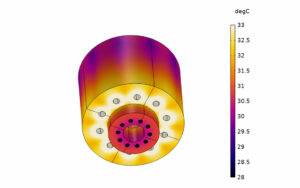 Breakthrough technologies
–
Micro and nanotechnologies
Always looking for innovative solutions and breakthrough technologies, KEP Technologies collaborates with EPFL (Ecole Polytechnique Fédérale de Lausanne). Our partnership focuses on the development of new concepts through the use of the CMI's (Center of MicroNanotechnology) state-of-the-art equipment and technologies in micro and nano manufacturing.
Thanks to our access to this world-renowned clean room complex, we are studying the use of micro and nanotechnologies for the design of future products.
Opposite: Operators in the photolithography room of the CMi (Center of MicroNanotechnology) – Courtesy of EPFL-CMi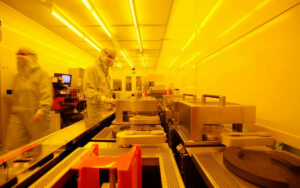 Materials
–
Mechanical properties
The mechanical properties of parts and assemblies of parts have a direct impact on the safe operation of a system.
Our experts in our Innovation Center advise on the most suitable materials for each application.
Calculations (static, dynamic) supported by simulations (finite elements) account for the deformations and stresses undergone by mechanical assemblies. The results are analyzed and then used to develop and improve the performance of the systems studied, in particular through the use of models.
Opposite: the diagram shows the buckling of a three-legged functional support.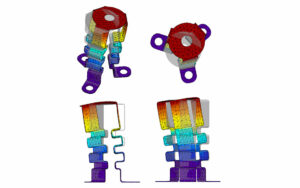 We can help you innovate
Tell us what you need